CMS DAQ Zynq Ultrascale+ &nbsp&nbsp&nbsp&nbsp All in one board: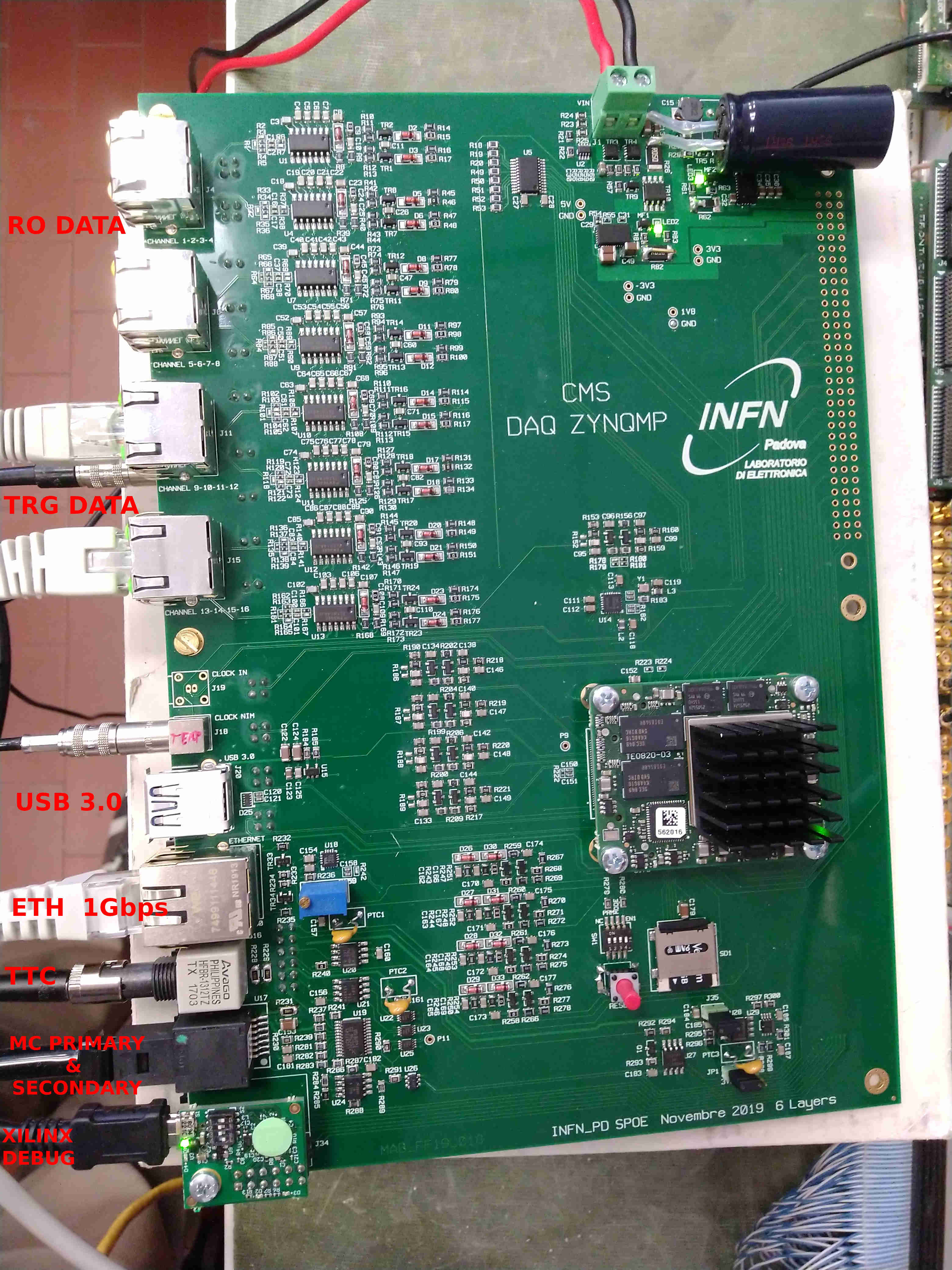 RO data link
TRIGER data link
LHC frequency CLK
TTC fiber optic output
Minicrate COM ports
Ethernet 1Gbps
USB 3.0
general porpose NIM IO
I2C
BUS 1 Wire
CAN bus

UserManual
Minicrate Software and Documents:

Monitor9 V9.0.0.97 last modified 23/02/2015 (a small user manual) version before 9.0.0.65 must be uninstalled.

Monitor8 V8.0.2.130 , need Framework 3.5 SP1 (piccolo user manual m8.doc)

Monitor V7.9.3.44 last modified 17/10/2008.

Minicrate manual Boundary Scan program McBsr7.1.0.13 last modified 25/11/2013 (Added Cable Test utility) McBsr_User_Manual

HC16 Minicrate Firmware V2.16 last modified 23/11/2017

Ram Version of the Firmware V2.16 last modified 23/11/2017

CCB Commands description Release V2.16 last modified 23/11/2017

Optica RS232 to copper RS485 converter-->Firmware V1.8 last modified 05/05/2009

new MC Secondary Board Reference Manual last modified 16/12/2014

Temperature Sensors Board commands description (Old version)

Temperature Sensors Board V2.5 commands description----->Firmware V2.5--Firmware 2.4

Temperature Sensors Board PT1000 commands description

ECB-cuof/ofcu Reference Manual

ECB uSD Image

New MC Secondary Server, ECB-mcsec Server software

Read MCs primary port optical signal amplitude software (CMS-SCM5 board)

Cu-Of remotely Upgrade Software for Linux and Windows (Visual studio 2008), how to compile and use the software can be found Here.

Minicrates Boards Sensors Code List update 26/01/2015
CCB
Threshold calibration data base
:
On the file CalDac_DB there is the parameters to calibrate threshold output for the FRONT-END, using Calibration DAC command (code 0x6B) . In the data base TTC_ID is the serial number that can be read with the ReadTTCrx command (code 0x28) at address 16 and 17 (see Table 3 on TTCrx manual). Warning in the data base, the threshold offsets are expressed in mV but in the command 0x6B this parameters are in Volt .
Layout:
TRB cables routing:
RPC & Led Alignent cable routing
LHC CK generator module:
Blocks Diagrams:
new MC secondary board ECB-mcsec setup
ECB-cuof OCB slow control setup
Scheme:
DT_TRB_PHI, DT_TRB_PHI32, DT_TRB_THETA,
new DT_TRB_THETA_FPGA (photo TOP, BOTTOM),
ROB (Link to CIEMAT)
SB_FPGA_CPU, SB_FPGA_MEMORIA, CCB_FPGA_TTC
ECB-cuof/ofcu/mcsec (photos: ECB_CuOf, ECB_OfCu, ECB_McSec)
ECB jumpers positions: CuOf Jumpers, McSec Jumpers, OfCu Jumpers)
CCB SB pof files: Cpu.pof, Memoria.pof, Ttc.pof
Scheda test TRB (CPLD RTL schematic)
Test Pulser Sequence: